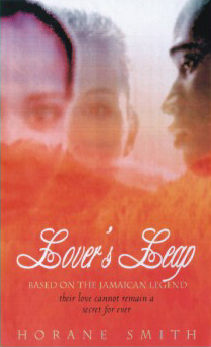 Lover's Leap
It was a love for tomorrow, not the 1830's Jamaica when slavery was king, god, ruler, and slave master. Two young slaves had eyes for each other but the daughter of a rich and powerful plantation owner was also in love. She brought love and she brought grief. Lookout, a 1700 ft. cliff, stunningly beautiful to the eyes, was their secret meeting place. It provided the most beautiful view from the cliff…and the most deadly!
For a taste of this intriguing novel, here's an excerpt…

Chapter 4

The buggy moved further and further away from the miseries and agonies of Big Yard. A day away from the plantation was a blessing in disguise for Maude, Babwe and now Jerome. Anita - to her it was fun. In essence, she didn't really have to go on a trip like that. Nevertheless, she capitalised on her father's loneliness and yearning for her mother and took the opportunity she had been hoping for all along i.e. to have some time with the young slave; to get to know him better, and without any restrictions, was all that was on her mind right now.
The first two miles of the journey were almost in silence. It was a little dark but soon that huge orange ball of fire known as the sun would creep over the Spur Tree Hills to the east of them, and spread its golden rays on their jerking bodies. The horses came to a slow trot at the command of Babwe.
"What's the matter?" asked Anita
"Thought I would give the horses a five minute break if that is okay with you ma'am."
"Oh, that's all right."
The horses had stopped in their tracks, their heads already lowered to the dew-covered grass overflowing into the narrow road. The quiet morning gave way to the sound of gushing water from a small stream bordering the road. The horses didn't seem interested in the sound of the water; the thick mound of fresh, green grass was more to their liking.
Jerome stepped down from the buggy, the moment the horses came to a halt. He joined Babwe in holding the reins to allow them to feed. Maude was slumped down in a rather comfortable position. Jerome saw Anita trying to make her way down from the buggy and rushed to help her.
"Here," he said, extending his hand.
"Let me help you ma'am."
"Oh, thank you, how nice of you."
"You are most welcome ma'am," Anita looked at him, leaning her head to one side. "You know you seem to be a nice person."
Jerome turned away his head and was about ready to walk towards Babwe. ....."Jerome! Please wait!"
Jerome turned around to meet her gaze.
"I know it's a bit awkward, you being a slave and I being the slave master's daughter but I would like to get to know you better. Can we be friends?" ....."Ah…I.."
"It's okay Jerome I know you are shy but please take your time. No rush, can we be friends?"
"Y-yes…no ma'am…I…"
"Tell you what, let it be our secret Jerome. No one will know except you and me. Is that okay?"
Jerome nodded in the affirmative. "I-I have to be careful ma'am. You know that is trouble."
"Yes I know Jerome and that is why it must be our little secret, right?" ....."Right ma'am."
"Okay go back to Babwe now and always remember our little secret."
Anita watched lustful eyes as he walked away from her. She felt triumphant, she felt victorious. She had found a treasure and that was her little secret. .....Maude smiled with half closed eyes. She didn't fully opened them until she was certain Anita had moved away from the buggy, and was walking toward the stream. So that was it, their little secret was no longer one. Maude had heard everything and her suspicions all along had now been proven right. Anita was up to something, it could mean trouble, real trouble for Jerome. At that point, Maude was not convinced that she should get involved. She had had more than one conversation with Alice Rowe, who seemed much in love with Jerome. In fact, Maude had promised to arrange for both of them to meet one Sunday at church. She had hoped for a meeting soon but she had been so tired recently that she didn't get around to doing it. She, too, would have to keep her mouth shut regarding the impending development. Suppose John ever had knowledge of what had transpired. She hated to think of consequences...
E-mail your comments to me at: horane@tht.net